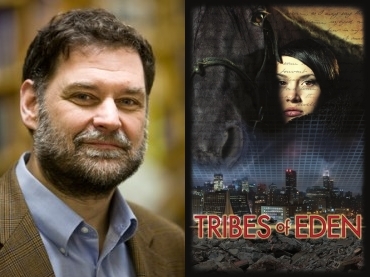 Local author William H. Thomas, a Harvard-trained physician, award-winning social activist, visionary eldercare reformer, mixed-power farmer, musician, and playwright, brings his vision for a new old age in a public reading and signing of his new book Tribes of Eden at the Syracuse Arts and Crafts Book Fair July 28.
Thomas joins a wealth of local and regional fiction, non-fiction, poetry and children's books authors and illustrators who will be showcased at the Book Fair and on hand to discuss, read and personally autograph their books. The Book Fair tents will be located at the heart of the festival just off Columbus Circle in the 300 block of Montgomery Street between East Jefferson Street and the entrance to the YMCA.
Available in paperback at Amazon.com, Tribes of Eden uses a post-apocalyptic scenario to show how trust, community and wisdom can overcome even the most tyrannical power and repair a broken world.
Tribes of Eden is inspired by Thomas life's work as a self-proclaimed "nursing home abolitionist" seeking to change the way society views aging. Thomas is founder of The Eden Alternative, a global nonprofit focused on transforming nursing homes into elder-centered communities, and The Green House Project, a revolutionary model to replace institutional nursing homes with smaller, 10-12 person homes.
"Tribes of Eden is a classic thriller and coming-of-age story that people of all ages can enjoy," said Thomas. "But the story is inspired by and dedicated to the real tribes of Eden, the thousands of people worldwide who believe that elders deserve a place at the heart of society and the opportunity for continued growth throughout life."
Set in the near future after the collapse of society, Tribes of Eden follows a mother and her two children as they find refuge in an isolated community in upstate New York hidden from "The GRID," a totalitarian power that restored order with an iron fist. As The GRID's virtual new world order begins to threaten the community, a young girl must lead an alliance of the young and old to restore humanity.
Thomas' publishing company, Sana Publications, has dedicated all proceeds from the novel to The Eden Alternative global non-profit to support education, innovation and development of new models of "person-centered care" that put the needs of people before the needs of institutions.