Where do you get your daily dose of news online? Do you use an RSS feed reader, such as Google Reader? Do you bookmark your favorite sites and navigate to them daily? Do you get all the news you need from your friends on Facebook?
Or, like me, do you do all the above plus spend countless hours trolling the internet for the ultimate social bookmarking/RSS Reader/iPhone App solution? The problem with trying to stay abreast of social media trends is that you never get to settle down with the perfect app or solution to your web browsing needs — there's always something newer, hotter, flashier and potentially lifesaving on the digital horizon, and it's your duty to explore them all.
My latest obsession has been to find the perfect RSS feed reader solution that automatically syncs from my desktop to my iPhone and has plenty of options for sharing stories. I do a shocking amount of reading on my iPhone (especially considering I work from home and am rarely more than 10 feet away from my computer!) and I've tried several RSS Apps. I won't bore ChangingAging readers with my App-obsession, but if you're interested in the options, Shawn Blanc has the ultimate blog post on the "iPhone's Missing Feed Reader."
I'm currently using two of his recommended Apps — NetNewsWire and Reeder — synced to two separate Google News Reader accounts. I use NetNewsWire to keep track of my personal news feed, which is a mixture of international and hyper local news sites, Tech news, Apple/iPhone news, a few blogs and a touch of celebrity gossip and movie rumors.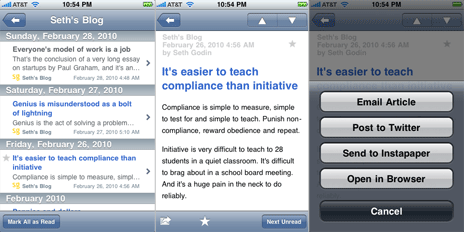 My newest RSS App is Reeder, sleek and brilliant little RSS aggregator that I use to keep track of some three dozen aging-related blogs and news sites I monitor for ChangingAging.org: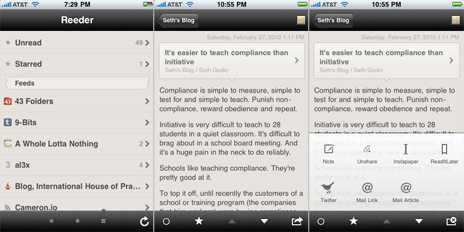 Some of the handy features on both these Reeder Apps (and their desktop equivalents) is the ability to easily share stories via email and Twitter, star favorites and download long articles to another favorite App — Instapaper — for later reading.
My obsession today was to figure out an easy way to share my ChangingAging RSS reading list with YOU, so I could get your feedback and get suggestions for other sites to add to my ever-growing list. You'll find a "Bundle" of my Google Reader RSS feeds on the left sidebar under the Facebook badges. This isn't exactly a "BlogRoll" — we're not endorsing any of these sites. In fact, there are several whacky anti-aging blogs in my RSS feed that are included not because we endorse those views, but because we feel it's important to monitor them and respond as needed.
Take a look at the Google Reader Feed on the left and let us know what we're missing!